TGI Supervisor Markera Tymes receives Impression Makers Award at PHL Airport
PHILADELPHIA, January 21, 2022 – Philly Pretzel Factory Supervisor Markera Tymes recently received the "Impression Makers" award in the second round of Philadelphia International Airport's (PHL) Employee Recognition Program. This award recognizes customer-facing employees who provide direct customer service to passengers.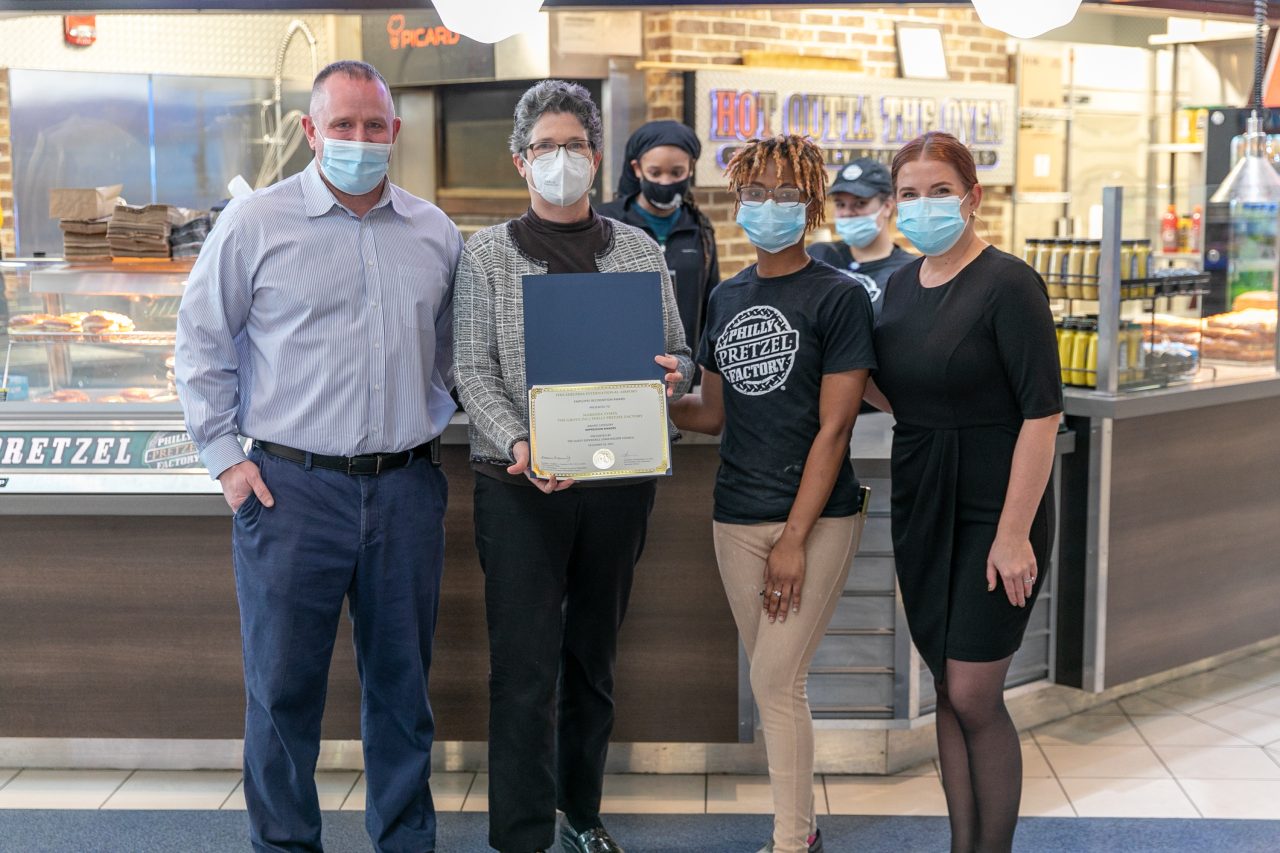 As a supervisor at the Philly Pretzel Factory in Terminal F, Tymes works the 4 am – 1 pm shift and oversees the store's day-to-day operations. Once she clocks in, she begins twisting and baking bagels, hot dogs, sausages, and pretzels. She also prepares the store for opening and tracks staffing and orders.
Although Tymes has only worked at the Philly Pretzel Factory airport location since March 2021, she's been working for the company for close to three years.
"At the airport, you never know who you'll meet," said Tymes. "I like building good customer service relationships with people. I love telling passengers to 'have a beautiful day.'"
In his recommendation of Tymes, Philly Pretzel Factory Area Manager Steve McKeon said, "Markera is a rock star! She embodies all the qualities we look for in the perfect customer service representative. She goes above and beyond daily to make sure each customer and coworker is greeted with a genuine smile and friendly greeting!"
Tymes wakes up at 2:30 am, drinks a coffee, and catches a bus from South Philadelphia to the airport. Although her shift may seem a bit odd for some people, she's found a good work/life balance that allows her to spend time with her three cats and three dogs.
Tymes and her coworkers make about 180-200 freshly baked goods a day. She likes baking fresh batches every day for PHL customers to enjoy.  
Read more at: https://www.phl.org/newsroom/profile-MarkeraTymes
Back To Blog